Appliance Repair Service Tampa FL
Welcome to Appliance Center. Since 1979, we have provided appliance repair, service and sales in Tampa, FL. Our family owned and operated business is committed to honest professional service at competitive prices, whether you need dryer repair, refrigerator service, or to save money on the purchase of a new or refurbished appliance for your home.
If you need appliances for your home, visit our 4000 square foot showroom in Tampa, FL to find the right appliance at the best price. Our showroom has a large selection of new, refurbished, and scratch and dent appliances at great prices. Buying refurbished or scratch and dent appliances can save a significant amount of money compared to purchasing new appliances, without affecting the operation of the machine.
Our experienced technicians provide quality workmanship and prompt service for all your appliance repair needs. We provide washing machine repair, dry service, range repair, stove service, garbage disposal, dishwasher service, and more. If you plan to repair your own appliance, our parts department offers parts for appliances from Amana, GE, Estate, Whirlpool, Kitchen Aid, Magic Chef, Maytag, Kenmore, and many other leading brands.
You can find additional information about our appliance repair services, view our inventory of new and refurbished appliances, and find answers to commonly asked questions on our website. Please visit our Tampa, FL showroom to find new and refurbished appliances or contact us at 813-968-2878 to speak with our parts department or schedule an appointment for appliance service at your home in the Tampa, FL area.
Appliance Repair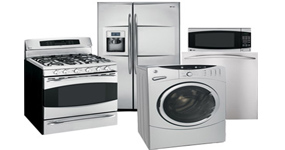 We service all major brands of refrigerators, freezers, stoves, ovens, ranges, cook tops, ice makers, washers, dryers, dishwashers,and garbage disposals.
Appliance Parts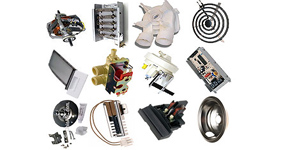 The parts department carries most parts for Amana, Whirlpool, GE, Maytag, Kenmore/Sears, Roper, Estate, Magic Chef, Kitchen Aid, Electrolux, Hotpoint and many others.
New-Scratch & Dent-Used

Scratch and Dent appliances offer huge savings if you can live with a few cosmetic flaws that have no affect on the functionality of the machine!